Teacher Appreciation Week
May 12, 2017
It's Teacher Appreciation Week Every day teachers across the country inspire and motivate students to reach their potential. In DC, public charter schools employ about 3,250 teachers. We reached out to a few of them to learn more about why they love their public charter school. Read more below and don't forget to #ThankATeacher!
"Working at St. Coletta has been an inspirational experience. What I love the most is ALL the people – the teachers, staff and administration. They are truly devoted. And, I love the students of course. We really are a family here." – Sarah Cheetham, House 5 Teacher at St. Coletta PCS
"I love teaching at Capital City because I am surrounded by teachers who motivate me to get out of my comfort zone and push my students to higher levels. I am supported by an administration who gives me the freedom to try new things and says, "how can I help" when I say crazy things like, "I want my students to build a race car!" - Kristen Dobbs, High School Physics Teacher, Capital City PCS
"Academy of Hope Adult PCS is designed to serve our community in a way that meets each learner where they are. Investing in adult learners is an investment into our present and future communities. I truly love working in a space that is intentional, safe and inclusive of all adult learners and a school where passion and hope lead with the idea that education is power."  - Hira Zeb, Lead Social Studies Teacher (on the right) at Academy of Hope Adult PCS
"KIPP as a whole is a Team and Family. This is not just a saying but a reality." -Ms. Watler, 6th Grade Science Teacher at KIPP DC Northeast Academy. (This is a wonderful story on Ms. Walter.) 
Karen White shares five reasons why she loves teaching at Kingsman Academy PCS: 
The support and caring from staff is an essential component of creating a positive, nurturing atmosphere in which our scholars can grow.
Given the tools, we push together to develop the best practices and strategies for our scholars' success.
Collaboration is not just academic. Collaboration is creating the bigger picture to meet the needs of our scholars.
At Kingsman, we regularly celebrate achievement within our community of staff and scholars.
Making a difference defines our day. I know I can and the students know they can.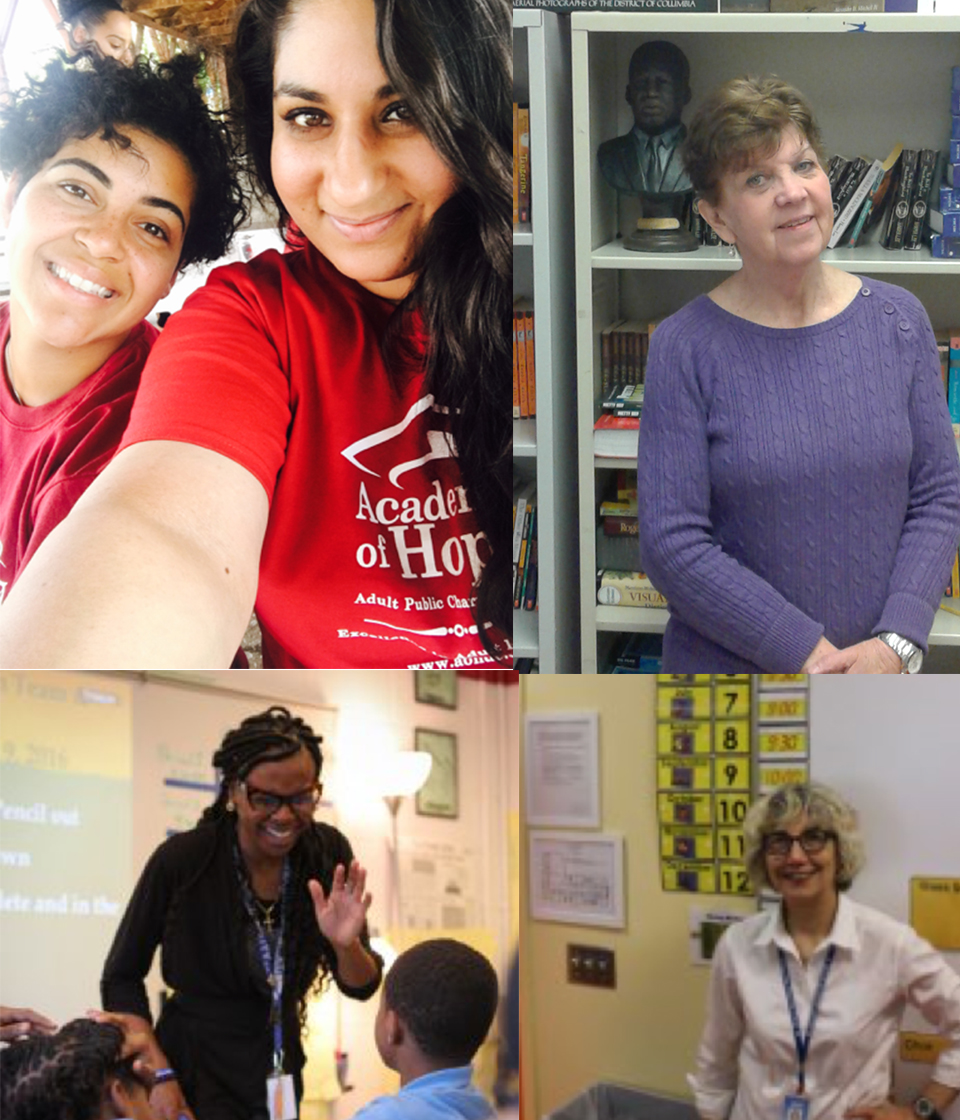 (Pictured clockwise: White, Cheetham, Walter, Zeb)
Be sure to follow us on Facebook, Twitter, and Instagram for social media updates on the 118 Public Charter Schools in Washington, DC.