New Student Enrollment Data Released
November 7, 2018
More Students Attend Public Charter Schools this Year, While Market Share Declines For the First Time
Public charter schools enrolled 565 more students this year based on the early student count released today by OSSE. For the first time since public charter schools opened in the city, the share of students in public charter schools declined, dropping slightly from 47.5% to 47.3%. Overall enrollment in public schools, including both DC Public and public charter schools, grew by 1,457. This is the 10th year in a row citywide enrollment has grown and the 23rd consecutive year public charter school enrollment has increased.
The DC Public Charter School Board continues to focus on our mission to ensure that more and more students attend an excellent school.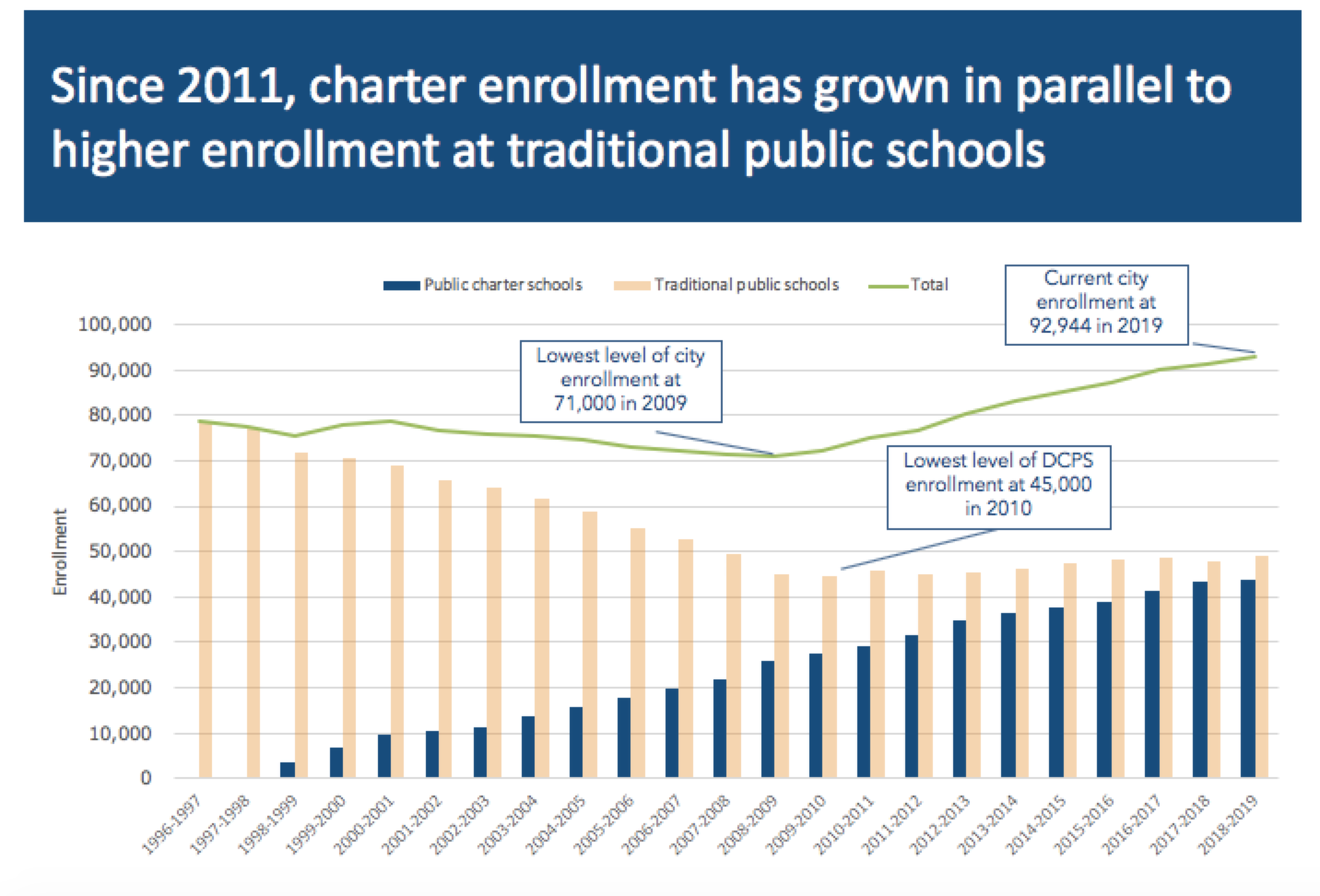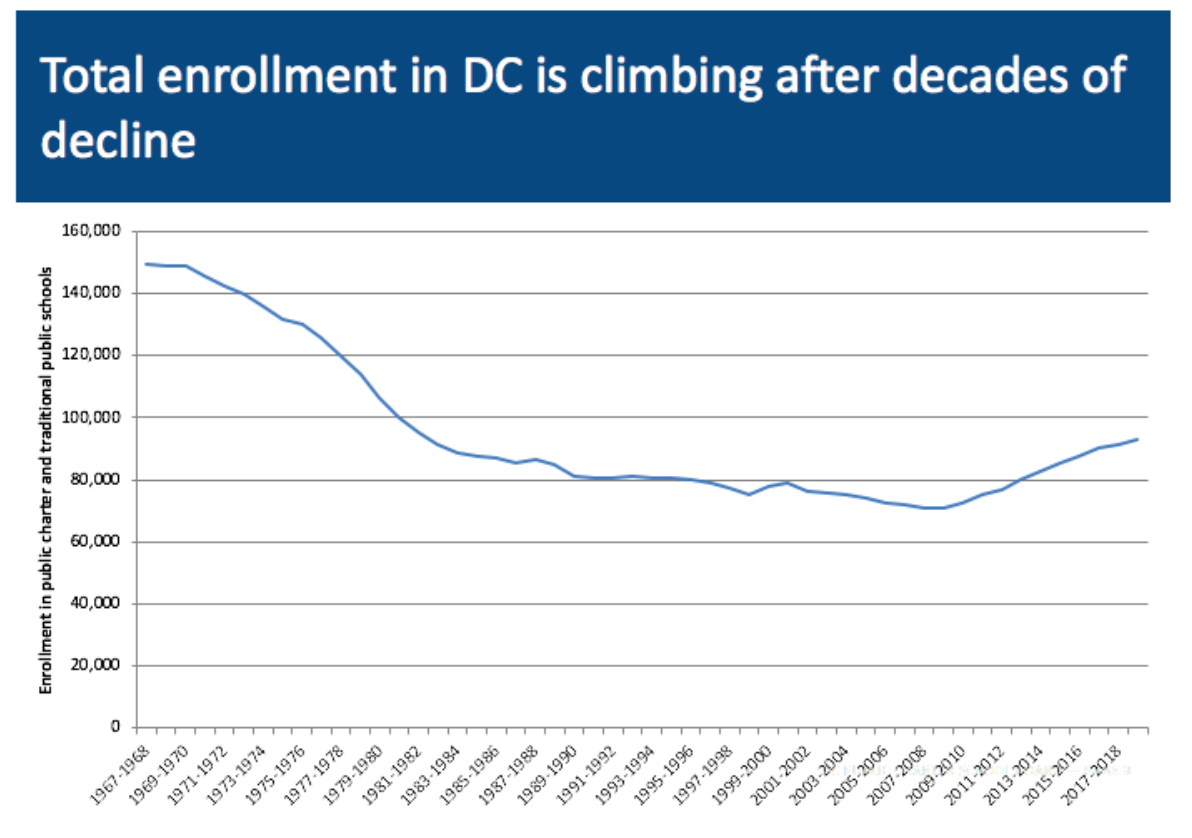 Fewer Seats Available this Year in PK-12 Schools
Our focus on ensuring every child attends a quality school resulted in 1,080 fewer seats in the charter sector this school year due to school and grade closures last year at five public charter schools. Meanwhile, we approved three new schools to open this school year: Statesman PCS enrolled 56 students; Digital Pioneers PCS enrolled 120 students; Elsie Whitlow Stokes PCS - East End enrolled 134 students, and The Family Place PCS enrolled 134 adult students.
Additionally, 13 other public charter schools expanded their programs to educate students in new grades this school year.
These schools include:
| | |
| --- | --- |
| School Name | Grade |
| Breakthrough Montessori PCS        | 1st grade |
| Center City PCS - Trinidad  | PK3 |
| Creative Minds International PCS | 8th grade |
| DC Prep PCS - Anacostia                        | 2nd grade |
| DC International School | 11th grade |
| Ingenuity Prep PCS | 5th grade |
| Lee Montessori PCS | 5th grade |
| Monument Academy PCS | 8th grade |
| Rocketship DC PCS - Legacy Prep | 3rd grade |
| Rocketship DC PCS - Rise Academy | 4th grade |
| Two Rivers PCS - Young  | 4th grade |
| Washington Leadership Academy PCS | 11th grade |
| Sela PCS | 5th grade |
The growth in new schools and new grades roughly equaled the decline in seats due to closure.  Net growth came from somewhat higher enrollment in other schools, most notably in adult schools. 
Hundreds More Adult Students Enrolled 
This year 4,758 adult learners have enrolled in one of the nine public charter schools focusing on educating individuals ages 18 (16 in some cases) and up.  This is 220 more students or a 4.8% increase over last year's enrollment.   
Adult schools like The Family Place PCS, Academy of Hope PCS, Carlos Rosario International PCS, Briya, YouthBuild, and Community College Prep PCS enrolled 116 more students than expected.   
This is a good sign that more adult learners are returning to the classroom to gain skills to earn a livable wage. Some go back to school to earn their high school equivalency diploma, others to learn English as a second language, while others  earn a certificate in technical education.   
PK-12 
Public charter school enrollment saw the largest growth in kindergarten and grades 4, 7, and 12.  
| | | | |
| --- | --- | --- | --- |
|  Grade    | 2017-2018 Enrollment | 2018-2019 Enrollment | % Change |
|  PK3  | 3,305  | 3,323  | 0.5% |
|  PK4  | 3,608  | 3,534  | -2.1% |
|  K  | 3,233  | 3,316  | 2.6% |
|  1  | 3,080  | 3,004  | -2.5% |
|  2   | 2,816 | 2,844  | 1.0% |
|  3  | 2,674  | 2,591  | -3.1% |
|  4  | 2,360  | 2,450  | 3.8% |
|  5    | 2,432 | 2,409 | -0.9% |
|  6   | 2,799  | 2,848 | 1.8% |
|  7   | 2,422 | 2,534  | 4.6% |
|  8   | 2,263  | 2,267 | 0.2% |
|  9  | 2,013  | 2,036  | 1.1% |
|  10  | 1,688  | 1,634 | -3.2% |
|  11  | 1,409  | 1,451 | 3.0% |
| 12 | 1,143  | 1,184 | 3.6% |
| Alternative Accountability Campuses  | 1,557  | 1,605  | 3.1% |